THE LITERAL TRANSLATIONS ONCE POSTED BY THE 'PREMSAI' GROUP OF SAI BABA TRANSLATORS HAVE BEEN DISOWNED BY THE KEY TRANSLATOR
AS HAVING BEEN FALSIFIED BY THE GROUP.

THAT PERSON - THE FORMER US DEVOTEE EILEEN WEED ('DIVYA') MADE FULLY CORRECT LITERAL TRANSLATIONS, BUT - BECAUSE THE GROUP INSISTED ON EDITING THE WORST
BLUNDERS BY SAI BABA - SHE FINALLY LOST FAITH IN HIM. MANY OF HER HER ORIGINAL TEXTS HAVE BEEN PRESERVED AND MANY ARE POSTED HERE ALONGSIDE THE ALTERED TESTS
(Background: On a site called 'premsai', students and others made complete, allegedly accurate translations of discourses given by Sathya Sai Baba between 2000 and 2003. The 'premsai' translations (removed from the Internet because the Sai authorities demanded it, were then saved and posted here in 2003). They were from Telugu to English, French, Italian, German, Spanish, Russian, Romanian, Dutch, Swedish. There were constant and serious discrepancies between these documents and other versions of his discourses as edited, sanitised and published in the official Sanathana Sarathi journal. However, some of the original words of Sai Baba were so damaging that even these allegedly 'literal' translations were altered.
CLICK ON THE DATES IN THE BOXES BELOW TO SEE THE EDITED PREMSAI DISCOURSE

THOSE IN BLUE ARE THE ORIGINAL, NON-BOWDLERISED TRANSLATIONS (before group alterations) BY EILEEN WEED LIKE THIS ONE:- 03_07_1996

YEAR 2000

YEAR 2001

YEAR 2002

YEAR 2003


YEAR 2004
18-02-2004

The original 'PREMSAI' website - long since deleted - was at http://www.internety.com/premsai.htm (see example of their webpage) The process of translation was as follows:-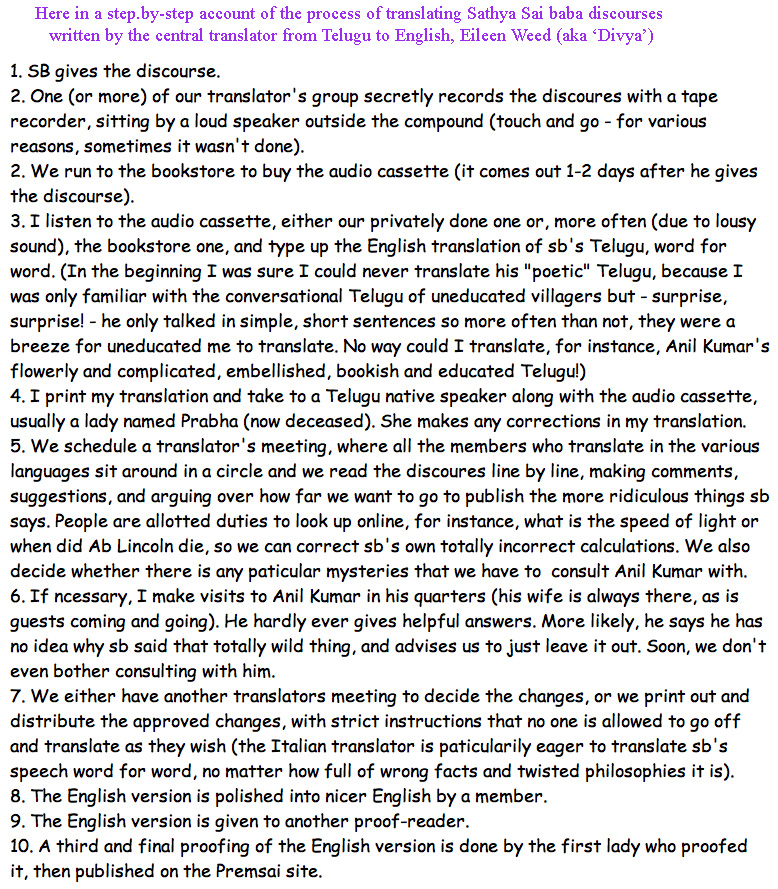 RETURN TO SAIGURU.NET TOP PAGE (IN ENGLISH)