It has been two months since the controversial Indian holy man Sai Baba passed away, leaving a swirling legacy and a network said to be worth at least £5bn. Since then there have been allegations of financial malpractice, claims of death threats and uncertainty as to who may try and lead the movement he established in the south of India and which has since spread to 126 countries.
Yesterday, members of the trust which currently controls his network sought to draw a line under at least some of the turmoil when they broke their silence and said they had already paid tax on piles of gold, silver and cash found in the holy man's private chambers following his death.
"Even without a demand we paid 97m rupees (£1.3m) as income tax and the balance, if any, will be paid after the valuation of the gold and jewellery," trust member V Srinivasan told a press conference, according to a report by the Agence France-Presse.
"We had no knowledge about the money... it was given to him and Sai Baba kept it for public use. He was an embodiment of simplicity and did not even have a bank account of his own. He never kept anything for himself."
The move by the trust followed weeks of claims and allegations about the handling of the estate of the holy man, which included 98kg of gold, 307kg of silver and 115m rupees (£1.5m) in cash discovered in his chambers. The rooms inside the ashram at Puttaparthi in the state of Andhra Pradesh had been shut when the 86-year-old was hospitalised at the end of March and only reopened two weeks ago, when the currency and treasure was found.
The organisation was also shaken by allegations from a relative of Sai Baba, who claimed someone with the trust had been threatening her. Chetana Raju, a niece, said a trust member had levelled death threats at her. It has also had to try and explain why police stopped a private vehicle carrying more than 3.5m rupees in cash belonging to the trust.
Mr Srinivasan said yesterday the money had been set aside to build a mausoleum for Sai Baba and that the task had been contracted out to a private company. "The [mausoleum] is not being built by the trust as it cannot do religious activity," he said.
When Sai Baba died at the end of April, having suffered multiple organ failure, many predicted his death would trigger a bitter fight. A big problem was that the man who counted film stars and politicians among his supporters and who had mesmerised audiences with his performances, in which he apparently pulled ash from his hair, had not named a successor to carry on his work.
There have been calls for the authorities to do more to monitor the trust and earlier this week the state government wrote and asked for an account of all its financial transactions and donations since 2009.
Some reports have suggested chief minister, Kiran Kumar Reddy, is considering taking over the running of the organisation. His endowments minister, Ponnala Lakshmaiah, told reporters the trust had already enjoyed several exemptions but he said there was now a need for greater transparency. "But now there are several allegations of financial irregularities," he added. "We have sought a report from the trust and we will decide what to do later."
Mr Srinivasan, an industrialist from the city of Chennai and the man who has emerged as the trust's de facto spokesman, said the organisation would cooperate. "If an enquiry comes from the government then we will promptly attend to it and if the government wants to monitor us, we have no problem," he said.
But some observers suggest the authorities may be disinclined to probe too deeply into the matter. Meera Nanda, a sociologist and author of The God Market, said the Indian government had been generous in affording non-taxable status to many religious organisations without imposing any restrictions or regulations. "There are deep cultural reasons for that," she said. "The political leaders share the faith in the miracles, they treat them like gods. Look how Sai Baba was treated – like he was a demi-god."
When news of Sai Baba's death was announced, thousands of mourners thronged to the ashram he set up decades ago and he was granted a state funeral. Others pointed out that the guru, who never married and had no children, was a controversial figure who had been accused of sexually abusing some of his followers, though he dismissed these claims as propaganda.
Who was Sai Baba?
When Sri Satya Sai Baba died of heart failure in April at the age of around 86 (his official birth date is unknown), India's Prime Minister, Manmohan Singh, described him as a "spiritual leader who inspired millions to lead a moral and meaningful life" and called his death an "irreparable loss".
The guru, who rose to prominence in the 1950s, left behind an empire worth an estimated £5.5bn, a 50 million-strong worldwide following (including celebrities such as Sachin Tendulkar and Goldie Hawn) and the International Sai Organisation, which finances health and education projects across the globe.
But Sai Baba's legacy is far from rosy. It will forever be dogged by allegations that he sexually abused young male devotees (though he was never charged); accusations that he built his following on the myth that he was the reincarnation of Shirdi Sai Baba (a 19th-century Indian holy man) and claims that his miracles were no more than simple magic tricks.
Comments on the above article (by Robert Priddy):
The statement that Sai Baba was "never charged" with the sexual abuse of young males is incorrect. He was charged in a petition to the Supreme Court of India and a report to the CBI. Both charges were quashed at source by the then government of Narasimha Rao, with the aid of S.B. Chavan (Home Minister). The former High Chief Justice, a founder of the Indian Supreme Court, P.N. Bhagwati, was a long-standing devotee of Sathya Sai Baba who has stated to the media in recent years that he never did anything whatever without the consent of Sai Baba! The Supreme Court threw out the petition - directing the petitioner to the High Court in Andhra Pradesh, where Sai Baba former car driver and devoted worshipper presided! Any further petitions were therefore entirely futile. The Supreme Court of Indian secretly destroyed the records of the petition - for they were not archived anywhere - which stopped the British Embassy finding out about the hearing. Fortunately for the petitioner, former security guard for Sai Baba, Mr. Hari Sampath, his attorney (the famous Kamini Jaiswal) retained a copy of the court's judgement (which was also then validated by a legal affiidavit - see scanned document here).
The entire scandalous affair was recorded by the petitioner and can be read at Sai Baba protected by the Supreme Court of India.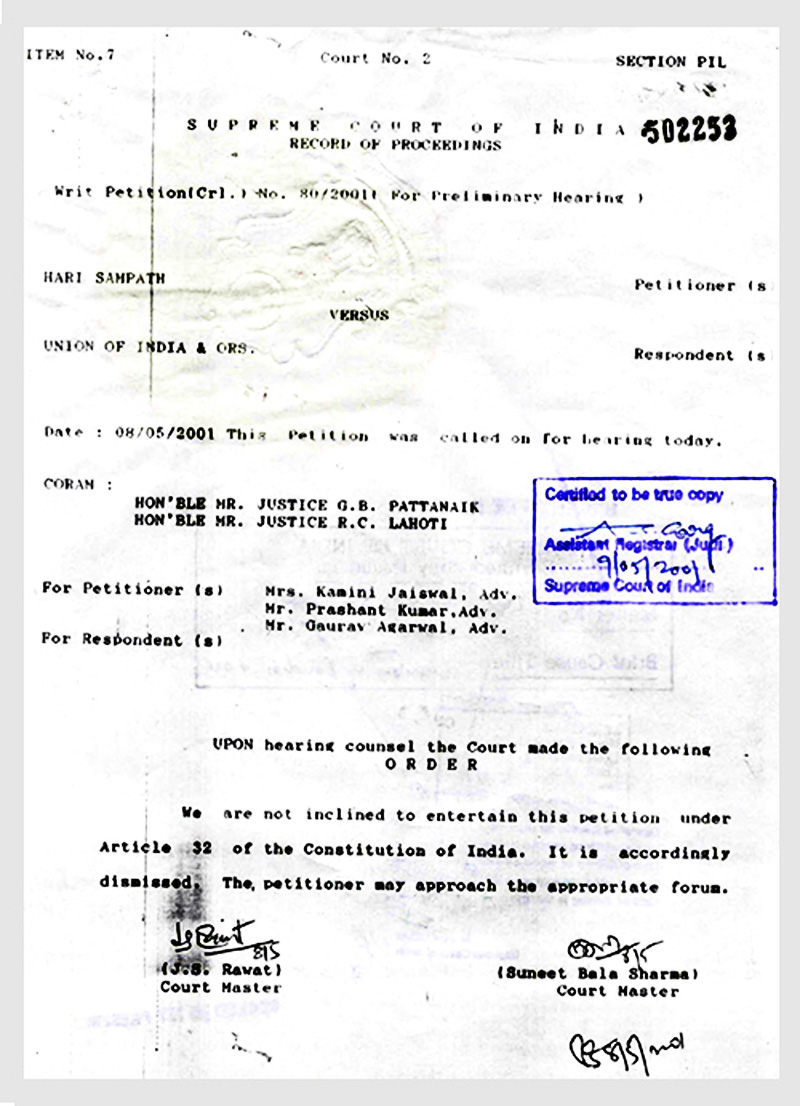 The above article is also full of vague or misleading statements where much more definitive proofs of contrary facts exist. For example, "Sai Baba died of heart failure in April" when in fact he died after a long hospitalization beginning with heart failure (implant of pacemaker), lung failure, kidney failure, liver failure, brain failure and enormous weight loss (some claimed he weighed only 20 Kg., other 30 kg.) This is a strong indication of AIDS, which he had reported contracted (a report which was covered up and only emerged later from a brave former follower in India). So 'heart failure' was not the cause of death, and the death certificate is not valid as this alone is not accepted a a cause in India. He was on life support for weeks, and this was finally disconnected secretly so as to make it appear that he passed away on Easter Sunday (to make it appear he was the Christ, as he always claimed).
The International Sathya Sai Organisation, of which I was a member for 18 years and leader in Norway was very much of a 'paper tiger' which propagandised for Sai Baba and itself, while the entire money flow was TO India and only to the wholly unaccountable Sai Baba Central Trust never away to other countries. The Independent could not discover this fact, though it has been publicized widely by many former donors and ex-followers of that tightly-knit cult (see on the Internet).
1) Print this Page 2) Use right click here - then 'Open page in new window' to translate

Return to index menu