Cover-up of Murder at the Sai College of Lokayya Pujari On 27th Febuary, 1987, the body of a youth was discovered near a depression in the ground at Alike, a small village near Mangalore in Karnataka State. The crowd collected, and the body was identified as that of Lokayya Pujari, a first year PUC student of the Junior College run by Satya Sai Lokashikshana Trust. This village incidentally is the centre of activities of Satya Sai Baba. An educational complex under the name of Satya Sai Lokashikshana Trust, with a primary school, high school and a junior college are being run by this Trust. The trust owns the land and buildings while the expenses of the institution are taken care of by the state government, being a state aided institution. Immediately the authorities of the Trust swung into action to label this as a case of suicide by influencing the top official who also was a great devotee of the Baba and one of his children was an old student of the school.Another question was, as to how a student like Lokayya, who was also a President's scout, could commit suicide?Finally, a hunger strike in front of the police station became necessary before a case of un-natural death was registered. An anonymous letter addressed to the police stated the circumstances leading to the death of Lokayya Poojari. Read fuller account here.

Whole family suicide at Prashanthi Nilayam 4-12-1998 In a hotel near the Satya Sai Airport, Ramesh aged 42, a multimillionaire industrialist in Tiruchirappally, owner of RMH Corporation, was found dead with seven other family members lying unconscious on the floor frothing at the mouth beside his daughter who already died of a brain tumour the day before. Six died within the day, while one person survived (Shankar). The police concluded that the whole family committed suicide because of the daughter's death and the shock this was to their faith in Sai Baba, who they had expected to save her. There was a suicide note: "God has forsaken us. I had great affection and love for my daughter. So we are going to the place where she has gone. No one is responsible for our death. I myself have influenced all the members to commit suicide to become one with Sai Baba. We are offering ourselves at his feet. All our properties have to be transferred to the Satya Sai Trust. The shradda ceremony should be done by my friend Ramakrishnan."

Another such incident: On Sunday May 13, 1990, Keith Ord and I, Alexandra Nagel, left Whitefield and booked a cheap hotel room in Bangalore. On May 15, Keith had to go back for some business to Sai Baba's ashram in Whitefield, and returned in the evening with the story that some Indian man during the afternoon darshan had caused uproar. He seemed to have accused Sai Baba of certain things or so. The seva dals, the people who lead the masses in the ashram in good order, had put the man, on Baba's request, (editor's underlining) outside the gate of the ashram. The following morning, (Monday 14), the man had arrived again. He then, outside the entrance, poured gasoline on himself and put himself to fire. The next day he had died of his wounds. Baba apparently had done nothing, and except a few, no one actually had done something to help the man. As if everybody had been indifferent.
Suicide of Baba's long-term personal driver: An Indian man used to drive Sai Baba's car from the 1950s until about 1986 (he is mentioned in Kasturi's biography of Sai Baba as having driven over a snake, for which Sai Baba admonished him). He was out driving alone when he knocked down and killed a villager near Puttaparthi. The ashram authorities at Prashanthi Nilayam – in the absence of Sai Baba at Whitefield - hushed up the accident directly by paying the relatives compensation. The driver was immediately excluded from the ashram permanently, where he had lived for decades. He had recently been warned by Sai Baba to drive more carefully. He had nowhere to go, and no means of livelihood, whereupon he sat before the Shiva statue in the Hillview Stadium, doused himself in petrol and set fire to it. He died of his injuries. This account was given to me, Robert Priddy, by V.K. Narasimhan when I asked him to clear up the matter I had from another source.
Student dies in car crash A fatal incident happened in 1989 when two of Swami's students - who all said were very special boys of his - died of their injuries in a car accident. One boy had written a note that was found in his trouser pocket in which he begged Swami to merge with him as he had already seen enough! Baba reportedly said to the doctors, who felt they should have got the boy to Bangalore to try to save him, that they should not confuse practicality with Grace. Referring to this incident, John Behner, a devotee from El Salvador and the Zonal Chairman of International Sai Organisation, Zone-II (Latin America), sent an e-mail (in 1997) to someone called 'Ricardo' in which he included the information: "In 1989, students and professors of the I.H.L. they received the same instruction of Swami. They followed their hearts and was a tremendous accident in Chittalapur when their omnibus hit a truck. Two died, including the son of P.K. Suri, covenor of the S.S. Book Trust. Another one was in comma several days." The context was whether or not one should follow one s heart (inclination) or follow Sawmi's exact words... where doing the former led to disaster several times.
Three die after putting faith in guru. Dominic Kennedy reported (27-8-2001) in The Times (London) that three British men died mysteriously after becoming followers of Sathya Sai Baba and that his activities were being studied by the Foreign Office which was planning to send out a warning against the guru to travellers. Three Britons apparently took their lives after having placed their hopes in Sai Baba. One had complained of being repeatedly sexually molested by Sathya Sai Baba at his ashram in Puttaparthi near Bangalore.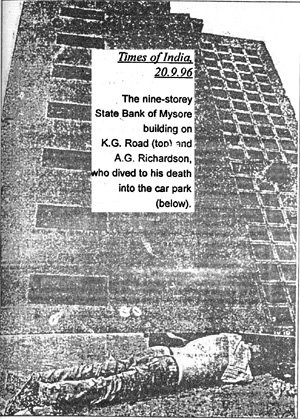 Michael Pender was found dead at a London hostel from alcohol and painkillers. He had previously tried to take his own life at Sathya Sai Baba's ashram. from The Times: 'I SOUGHT PEACE AND COULDN'T FIND IT'
Source: The Times Issue Date: Monday August 27, 2001 Page: 3 Edition: Michael Pender, a student, hoped that Sai Baba would be able to cure him of HIV. Like thousands of devotees from around the world, Mr Pender went on a pilgrimage to Sai Baba's ashram in Puttaparthi, southern India, expecting to find magic and divinity. Instead Mr Pender, known as "Mitch", was found dead after taking tablets in the lonely bedroom of a hostel for the homeless in Highbury, North London. He was 23. Kathleen Ord, who first told him of Sai Baba's teachings, has since destroyed her books and videos on the holy man. She said: "I blame myself in many ways because, if I hadn't introduced them, Mitch would probably be alive now. That's what he went to India for, thinking he'd find a cure. "He tried to commit suicide in the ashram. He had overdosed on drugs more than once. He had some strange, very powerful experiences there. There was something sexual that was frightening." Her son, Keith, has given a detailed account of what Mr Pender said in his last weeks about meeting Sai Baba. The guru flattered the British student by describing him as "the reincarnation of St Michael". Mr Ord's evidence, posted on the Internet, states: "He told me that the very first private interview that he had with SB was a sexual encounter.
Aran Edwards was found at home in Cardiff; he hanged himself, despite having joined a Sai Baba support group where he was told to write to the guru for help with his psychological problems. His father sent many anxious letters to Sai Baba but "was devastated after receiving no replies and being told that the guru did not read his mail".

Andrew G. Richardson, a South African-born Britian, jumped from the top of a building in India just after visiting Sai Baba's ashram.
Tom Sackville, a former Home Office Minister, urged the Government to take decisive action to warn teachers and pilgrims of the dangers of becoming involved with Sathat Sai Baba.
Mr Sackville, chairman of the anti-cult organisation Fair (Family Action Information and Resource) told that they had successfully persuaded a girls' school to reject a Sai Baba-inspired course.
Mr Sackville was reported as saying"Some other countries would have had official warnings." and he called on the Foreign Office to issue a warning against Sai Baba along the lines of recommendations to travellers to beware the dangers of Aids and violence abroad.
Sex abuse and subsequent suicide A young favourite of Sai Baba - a German youth called Uli Steckenreuter - was not only sexually abused by Sai Baba, but also took his own life years later in 1982. An American who interviewed many devotees about alleged incredible experiences of miracles, omniscience and so forth, interviewed Uli Stekenreuter and his Sai-devoted father (Julian Peters), but totyally avoided mention of Uli's being required to give Sai Baba oral sex (as reported by Uli to Don Heath, a former leader of th San Fansisco Sai Baba Center) and, yet more despicably, by avoiding to report that Uli hanged himself in 1982. See here

Two suicides in Sweden by young men The Swedish Sathya Sai Organisasjon's leader, Conny Larsson, ran a treatment centre for young offenders (some very serious criminal youth). He took up the work due to Sai Baba's directive to do so. He introduced them to the Sai Baba story and teachings and took them (and others) at his own expense on a visit to Puttaparthi where they were 'granted' private interviews by Sai Baba. He later realised what he had long refused to take seriously - that they had been sexually abused (as he had himself, thinking it was a healing process for childhood sex abuse trauma he suffered) for both of them later took their own lives (independently of one another). See here

Two women devotees of Sai Baba commit suicide Press report. BANGALORE, APRIL 20. Two members of a family from Chennai, said to be devotees of Sri Satya Sai Baba, reportedly committed suicide in a City hotel as they were unable to get his "darshan."
The dead were identified as Seethamal (58) and her daughter Usharani (35). Usharani's son, Srikrishna (17), who attempted to commit suicide, is in a serious condition in Victoria Hospital here, according to the police.
The Assistant Commissioner of Police (Chikpet), Mr. G. A. Bava, said the police found a suicide note in Tamil in which the three persons gave the reason for their action.
According to the police, the three came to Bangalore on April 17 for a "darshan" of Sri Satya Sai Baba at Whitefield. On reportedly failing to get a "darshan" they consumed an excess dose of sleeping pills in a bid to end their life.
The incident came to light on Tuesday afternoon when the room boys noticed blood from one of the rooms. They informed the police who broke open the doors to find the decomposed body of Seethamal. Usharani and Srikrishna were alive. The police made arrangements to shift them to Victoria Hospital but Usharani died en route. Police suspect the three to have consumed sleeping pills on Monday.
Police found more than 50 strips of tablets and empty beer bottles in the room and suspect that the pills were consumed after mixing them with beer. Usharani, who was a member of an institution run by Satya Sai Baba's Ashram, possessed an identity card issued by the institutions. The dead left behind Rs. 2,000 for distribution among the poor.
The address of the victims was given as No.9, Vigneshwaranagar, I Main Road, Vadapalani, Chennai-28. In the suicide note, they said that information of their death was to be given on telephone 4844417, which is said to be that of one Mr. Rajeshwar. Upparpet police have registered a case.
Australian lady murder in her room at Prashanthi Nilayam In the petition by Shri K.N. Balgopal 23-2-1994 before Hon. Justice Ramakrishna Raju, the following facts were stated:-
From the Annexure, page 48,: "An Australian lady, who was also a member of the trust (belonging to the faction of the ousted secretary of the trust) was murdered in her room in Prashanthi Nilayam seven months ago but the entire incident was hushed up.

Unsolved mystery of missing persons from Puttaparthi (Telugu Newspaper clipping about people vanishing at Puttaparthi. Translation into English) Praja Shakti, Telugu Daily, Hyderabad Edition dated 11.2.1995, page 2 Dharmavaram, Feb.10:
People are worried about the sudden vanishing of 3 persons in Puttaparthi, the well known spiritual center of Sathya Sai Baba. One lady and a foreigner are amongst the missing people. Facts on these missing people are not yet revealed. These are the details. Mr.Sanjay Yadav (31) belonging to Babulgan Town of Yavathmal district in Maharashtra visited Puttaparthi on 19th November 1994. His wife Mrs. Jyothi and his brother-in-law Tharkeshwar reported to the police station that he was missing since November 21st. Similarly on 19.12.1994, Mahamaya Sadhuka (24) belonging to North Jowpore Dahee area of Howrah District of West Bengal, had vanished all of a sudden while making purchases in Puttaparthi with her friends. Her friends N.Gangoolee and M.Supritimanna reported this to the local police station. While the above two cases worried the devotees visiting Puttaparthi, an incident of a Russian citizen missing took place. On 16th January 1995 Atancherg and his friend Alexander from Russia came to Puttaparthi. On 22nd January they registered their names in the male Ward Shed No.21 at Prashantinilayam and stayed over there. They got introduced to Slacheko and Cheksplier Vadimir of Moscow also staying in the same shed. These four Russians on 25.1.1995 visited Erra Kondalu (Red Hills) on the east of Puttaparthi. At 12.30 noon, an unknown youth came there and took away Mr.Atancherg along with him. Since he never returned back, his friends Alexander Slacheko and Checksplier Vadimir reported the same to Puttaparthi Police Station. It is understood that Atancherg was carrying a video camera worth more than twentyfive thousand rupees. All these three missing one after the other within a short period, the public here are scared.

David Paul reported: "I had heard of events such as the dome in the museum falling upon and killing devotees working there and other events such as someone being killed a (westerner) I understand by the meditation tree and again in 1992 a woman was killed and dismembered in her room in the village and I remember thinking why if he is what he says he is does he allow these things to happen." Read David Paul's full account and his letter to the BBC.
There are various serious hazards that are never explained to visitors. None are told that there are numerous armed plainclothes guards mingling with ordinary visitors, in addition to the highly visible armed guards and security persons who are there to protect Sai Baba (by Indian Government order), who were installed not long after six young men were murdered in Sai Baba's bedroom apartment in June 1
Rapes of women: Further, a long-term (former) devotee who was very close to Sai Baba's sisters, Eileen Weed (known as 'Divya') reported in her letter to her parents at the time two (more) rapes under the (holy) meditation tree.


A foreign woman devotee was found murdered close to the wish-fulfilling tree in Puttaparthi one morning (date uncertain, but in the late 1980s). She had apparently been robbed of belongings.
Another Westerner was murdered in the ashram in the early 1990's, reports friends of ours who visited there not long after the event, of which - with considerable shock - they heard from other devotees. (Robert Priddy)Another rape of a female visitor was reported to the police, but, as usual, nothing seems to have been done. The police were in the pocket of the Sai authorities, so they no doubt buried the case:-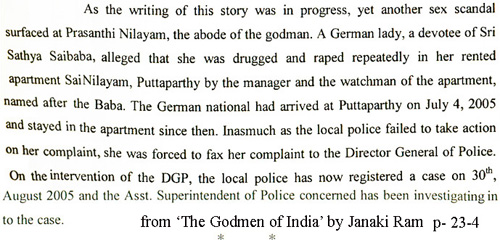 Kidney theft case involving Sathya Sai Baba's SS-Hospital Raghu Ram of the Andhra Pradesh High Court on Thursday admitted a writ petition seeking initiation of criminal prosecution against the doctors of the Sri Sathya Sai Institute of Higher Medical Sciences, Puttaparthi in Anantapur district alleging malpractices regarding the transplantation of kidney.
The writ petition has been filed by Balaji Triambak Rao Karavande, who has alleged that the doctors of the institute removed a kidney from his body and did not transplant the same to his father...
After he offered to donate one of his kidneys to save his father's life, the doctors at the institute operated on him on April 25 1994 and told him that the same would be transplanted to his father.
BT Karavande said that his father died in December 1995 and to his shock the doctors claimed that his father's body did not show signs of a new transplanted kidney. He informed the court that after this revelation, he lodged a complaint with the Latur [Maharashtra] police, who exumed the body, conducted a post-mortem, and confirmed that no kidney transplant has taken place.
He alleged that the police at Puttaparthi did not register the complaint and that he was thrown out of the hospital when he confronted the doctors with the relevant documents. He sought compensation of Rs 20 lakh and direction to the police to register a case and punish the guilty who played fraud upon him." This story is also reported in The Hindu, Hyderabad, 5.11.99.

Brutal murder of a Swiss lady in her room at Prashanthi Nilayam (exact date uncertain, but about a week after the murder of the Swiss/German-speaking lady in her room in Prashanthi Nilayam - probably early 1992, certainlywell before the June 1993 murders in Sathya Sai Baba's bedroom took place.) Reported by mail by Marge Hendel, an American, who was living mostly in Norway, but with months per annum in India for a number of years. My wife had met the Swiss-German lady who was about to become a flat owner. When we were back at the ashram again, I asked Danish Mr. Thorbjørn Meyer - then the coordinating Chairman of the Sathya Sai Organization for Scandinavian group of countries what he knew of the murder of that lady. He said she was killed at her apartment a day or so after having been to the State Bank of India in Puttaparthi, and because she had not concealed her withdrawal (of Rs. 80,000.- an extremely considerable sum for Indian villagers), she had been followed by two local young men. He added that it was really her own fault! I was lost for words when he said that... he was until his death (around 2008) one of the most active Sai officials at covering up anything whatever which may reflect badly on his Lord and Master, Sathya Sai Baba.The above murder was investigated by the Puttaparthi police, who caught the murderers - two brothers resident in Puttaparthi. Some weeks later they escaped from custody. V.K. Narasimhan told me that the police had allowed them to abscond after they had agreed to tell where the money was hidden, which the police then took for themselves. The Prashanthi Nilayam authorities were apparently able to prove this embezzlement and this information was used by Janakiramiah and others involved to pressure the Puttaparthi police chief into giving the order for the execution by rifle fire of the four Sai follower young men trapped in Sai Baba's bedroom apartment.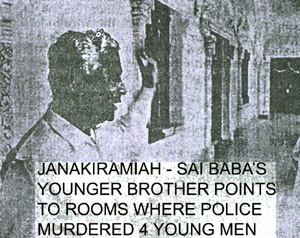 Murders to cover up wrong-doings etc.: B. Premanand, who claims that he remains alive only because he is a prominent sceptic and critic of Sai Baba, and who has filed several lawsuits against Sathya Sai Baba has written:
" I have the records of more than a hundred persons destroyed by the Satya Sai Baba gang beginning with one Mr. Venkatamuni of Madras who was done away at Madurai in an air conditioned room and then after getting death certificates from doctors taken to Madras by Satya Sai Baba in his own car and cremated without giving any information to the police and thus hushing up the matter. Afterwards the doctors who gave the death certificates also succumbed to death. In these deaths the mode of operation is in five ways: 1. Death by car accidents. 2. Death by Heart failure. 3. Death by poisoning. 4. Death by hanging. 5. Death by drowning. In the third para of this letter I have informed you about the notice distributed by the lady teacher of the Satya Sai Vidya Peeth at Puramala near Quilandy. A copy of that notice was sent to me by the husband of the lady teacher. Then itself I had replied him that he being alone he will be harassed by the Satya Sai Baba Trust who have high influence in Government, Police and Judiciary and so he may loose his job also, thus to strangulate him economically and so he should be careful..."

"You also know that I have filed a complaint with the Press Council of India, because your editor Mr. V.P. Ramachandran did not publish my reply to the letter of Mr. P. Chandu Nayar which was totally false even if you take into consideration or the news published by you earlier beginning from 1970. Because the Press Council had accepted my complaint, I thought that witnesses may be necessary and I wrote a letter to Mr. Chandrachoodan who was the husband of the teacher who was dismissed for the notice. The letter came back with the inscription "EXPIRED". So I again wrote to his wife and I was shocked to know that she also expired. When I enquired I found that the whole family, Mr. & Mrs. Chandrachoodan and their 4 year child died of poisoning at Palani on 30.10.1981 just one month from the date of receipt of my letter of 28.9.1981 by Justice V. Balakrishna Eradi, Dr. P.B. Menon and P. Chandu Nayar. I am informed that the cause for death was unknown. From the investigations I have conducted about the hundreds of such deaths who once were with Satya Sai Baba, I have to doubt that this is also a murder as they were in the know of what was happening in the school. The police have simply closed the case as suicide by poison. After coming to know of this death I searched the old copies of the newspapers and found that this death news was published by Mathrubhumi and Malayala Manorama on 4.11.1981. Luckily I had purchased some copies of this days newspapers as the news of gifting 13 acres of our land in Shrishaila to Keltron so that it would help about 400 families to earn their livelihood by sweat."
(from a letter to Shri M.P. Veerendra Kumar, Chairman & Managing Director, Kozhikode on 7.8.1983) See scans of his letter here first part - second part

Death of the gate-keeper Kumar at Prashanthi Nilayam: In early 1987 I (Robert Priddy) was at Prashanthi Nilayam and - through Alfred Brinnand, a Hindi-speaking Anglo-Indian friend - came to meet a Chinese man from Singapore who was a resident in Prashanthi Nilayam, a man with a very serious degree of disability due to some unusual condition. This man also spoke Telugu too and told what he had learned about a murder (or manslaughter?) that had some time days previously occurred right in front of the accommodation office in broad daylight. The circumstances were most peculiar. The gate-keeper Kumar was one of the shepherds (though called 'bandits' in Kasturi's official biography) who Sai Baba had visited in the hills nearby and lectured about stealing etc. Kumar was one of them, and SB took him back to serveas gatkeeper to the Prashanthi Nilayam ashram. Kumar was widely known as a brutal man who beat Indian peasant visitors mercilessly, and even some European visitors. He had imprisoned a US lady for days in the concrete hut he had control over near the gokulam, until forced to release here. Im was told his behaviour had badly angered a Shiva priest who had visited the ashram now and again. While Kumar while sat on the bench in front of the offices, the Shiva priest pretended to ask forgiveness for his anger and asked to touch Kumar's feet. However, he grabbed a foot and bit off his big toe. (These priests haunt burning ghats and the like, often sharpen their teeth for biting heads of chickens in sacrifices). The shock this caused Kumar was so great - doubtless combined with superstitious fears - that he died from it in the ashram hospital within a couple of days. The deputy head of the ashram, Chiranjia Rao and his staff were trying to stop anything about this coming out and they were extra vigilantly watching residents who knew about it and what contact they had with foreigners, according to the Singaporean. our informant. It was discovered that the gatekeeper's room had turned out to have tens of thousands of rupees in small denominations hidden behind the picture of Sathya Sai Baba ! He had been taking bribes from poor people to enter the ashram. Such things were supposed to fall within their area of responsibility... even while the 'omniscient' Sathya Sai Baba - is repeatedly said by various writers to 'look after every detail' in his ashram himself!Alfred Brinnand told me he saw the head of ashram Kutumba Rao and his deputy, Chiranjia Rao on the veranda in apparent abject anxiety at Baba's wrathful looks afterwards.
This incident was covered up effectively, but - as is often the resuklt - various conflicting stories about who did what and when circulated among residents and other Indian followers. Whether they were planted on purpose (a known technique for confusing any investigator) or resulted from the process known as 'Chinese whispers' is anyone's guess. The other accounts I was told by Indian persons differed greatly (some said it was the ashram cook who had been beaten by - and later revengefully killed - Kumar with a kitchen knife in the grounds of the nearby 'samadhi' shrine to SB's parents. Since I was present at the time and do not doubt the vivid account I heard as being the closest to the true facts.


Death under suspicious circumstances at the 'Abode of Supreme Peace' Web India reports on unexplained death at Prashanthi Nilayam (Jan 10. 2012) See scan here:-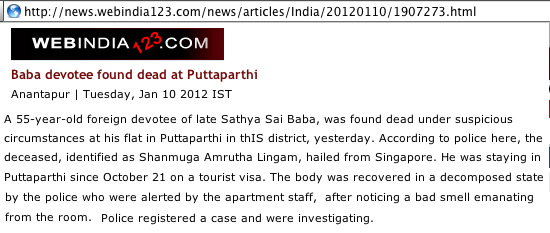 "Attempted murder on Baba by a Canadian national The Week 18-7-1993 (A. Ram Baba in Hyderabad) In 1985, the district police filed a case of attempted murder on Baba by a Canadian national named Graham Erich Griffin, a Christian fanatic. The case had been played down deliberately to avoid wide publicity so as not to affect the image of the ashram. During a visit to Anantapur in the wake of June 6 incident in Puttaparthi, a high-ranking police official confirmed that the Government withdrew the case as it was under investigation in a Penakondu court. It is still a mystery why the Government ordered the forcible deportation of the Canadian and closure of the case. The perplexing side is that when Griffin refused to be sent back, the Government sanctioned Rs. 15,000.- towards his travel expenses and got him deported forcibly.