The Genital 'oiling' of young males by Sathya Sai Baba: Many Western devotees believe that Sathya Sai needs to rub naked genitals vigorously and voluptuously to kiss young men and boys so as to raise their kundalini (i.e 'dormant sexual-spiritual energies')! This is a travesty of so-called 'kundalini yoga', which has long been widely practiced in India and requires absolutely no 'massaging' of genitalia or kissing. Meanwhile devotees proudly claim and believe that Sathya Sai Baba never touches females. Others known to me who are thought to be 'very important persons' in Sai circles (only) still privately defend Sathya Sai Baba's sexual abuse as 'healing' or- more ridiculously - as the repayment/working off of 'terrible past karma', which they see as a great boon for his victims to get! These views, intended to exonerate Sathya Sai Baba from any blame as a sexual molester and pederast, have been published on the internet by someone calling himself Ram Das Awle and are circulated widely among those very puzzled among the blindly faithful who are nonetheless aware that the sexual allegations have real substance. The belief that whatever Sathya Sai Baba does to a person is for his own good, is held by many followers and expressed openly by some! This would include the anal rape of underage boys, as reported by Dr. Naresh Bhatia who described carrying out a medical examination of a young Sai student who he said he found had been raped by Sathya Sai Baba. Sai followers therefore view the great mass of mankind to be misguided that this is a bad thing, since they are defending as 'divine' a low form of depravity.
The fantasies engendered by Sathya Sai Baba's claims easily turn black into white. Both values and facts become gradually more and more distorted by devotees who have got caught up in Sathya Sai Baba's catch-22, pick-and-choose menu of teachings by his powerful manipulations of their desires and dreams, his flattery, primadonna behaviour, great chutzpa, and his all-embracing megalomaniacal claims and pretensions etc.
The many and detailed descriptions by former male devotees of Sathya Sai Baba's various homosexual advances and behaviour towards them, the series of good-looking young European men who have gone through the Sathya Sai Baba 'centre of attention' experience are almost self-explanatory. I say only 'almost' because a number of defendants of Sathya Sai Baba in the Sathya Sai Organization are conducting a damage-limitation misinformation campaign, not least because some of the leaders have admitted in public that they know that Sathya Sai Baba 'anoints' young men's genitals in secret and afterwards warns them to tell no one about it. One leader - Thorbjørn Meyer - has carefully described this unasked for genital manipulation an "age old Indian oil ceremony", without being able to produce even a fragment of documentation for this from Indian scripture or reliable historical sources. Even if he had, it would surely just amount to a primitive and perverted superstition. Another word for 'anoints' could well be 'interferes physically with' or 'sexually molests' young men's genitals. There are yet other verbal alternatives. Such an act is more likely a testing of sexual availability or a prelude to seduction, such as are described in sexual psychopathological works. As soon as we confront these matters from the viewpoint of a propaganda-free, normally non-prejudiced standpoint, they take on a fairly easily understood character.
Major abuse testimonies world-wide by young men and their relatives: Sharon Purcell was a devotee for 32 years and together with Elsie and Walter Cowan, Fritz and Victoria Ellis and her then husband,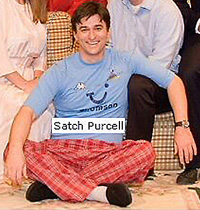 Gary, started the first official Southern California Center in the hilltop home of Elsie and Walter in the Cowan Heights section of Tustin , California. Sharon and Gary Purcell were told by Sathya Sai Baba to name their child Sathya, which they did. In 1993 Sathya Purcell went to India with Hal Honig's group of boys. One week later, Sharon followed her son to India with her friend, Jill, where they had an interview with Sathya Sai Baba. Later, Sharon reported to others, including a long term office-bearer, Glen Meloy, that Sathya Sai Baba had molested 3 of Sathya's friends in private interviews which caused him to tell her that he no longer believed in Sai Baba. One of the boys in his group, whose genitals were oiled by Sai Baba, was Josh Kintz, son of Mahri and Bruce Kintz, long term members of the former Cherry Valley , California Center under the leadership of the late Joy Thomas and now currently active members of the Hemet , California Center. A third boy was also molested in this way. Sharon Purcell also knew Mark Roche well, who has courageously and wholly convincingly testified on the BBC documentary 'Secret Swami' to Sai Baba having tried to gratify his desire for oral sex with him in 1976 when Mark was a young man and believed him to be the God Avatar, as all the others in the group did, including Dr. J. Hislop and Mr. & Mrs. Cowan. Since then I resumed contact with Mark Roche, who my wife and I knew very well during a long stay near Bangalore and Kodiakanal in 1994, and there can be no doubt whatever to my mind that he is telling the truth, not least for the sake of helping those those who are defenseless victims of Sai Baba's sexual proclivities.

Sharon , a founder member of the Sai Organisation in California , knew some of those had been forced into sex by Sai Baba and, discovering this 'incredible' fact, left him and his organisation well before the internet revelations took place and she contributed to them via Glen Meloy. Would a person who had devoted her time, energy and become so deeply involved take such a step for no reason? She is just one example of over 100 unselfish persons working for the good of all as other ex-office-bearers in the Sai Organisation who have done the same. Her son, Sathya 'Satch' Purcell later gave a detailed account of his experiences in six parts, beginning at this link.

The results of their inquiries in various countries were first seen on BBC Channel Two on June 17th, 2004 . The only direct statement that Sathya Sai Baba made was "Swami is pure"! and that was a private assurance to the top leader of the international Sai movement, Dr. M. Goldstein, who has gone on record reporting it. He accepted it at face value without any further questions, explanations or investigations. Thereafter he returned unopened all mail from all former leaders in the US Organisation who tried to contact him making complaints of sexual abuse. In the BBC documentary 'Secret Swami' Goldstein tells that Sai Baba told him that if he wanted to fight "gutter people", he would have to go into the gutter, so he should forget it. Goldstein claimed that he is a knower of human nature and tried to intimidate the young lady interviewer by vehement finger-shaking and a forceful attitude. He said that he is a doctor: "I am a consummate professional", and claimed he can tell infallibly by looking at young men whether they have been sexually abused! Viewers judged that he came across as an authoritarian ego-inflated 'doctor from hell' with raw conceit and aggression seldom seen even on TV (for it was filmed with a hidden camera so he would show his true nature). He is the Number One rich and powerful mover and shaker of the Sai Organisation, which also speaks volumes about its despotic internal nature.

An entirely undisputed and shockingly clear account of major sexual abuse by Sai Baba was made on film, firstly on 'Seduced by Sai Baba' (Denmark 2002) and secondly in 'Secret Swami' by the BBC (June 2004). The young man, who was underage at the time, is Alaya Rahm, son of Al Rahm, who provides support and his side of the episode. He and his family tell most convincingly of his ordeals at the threatening hands of Sai Baba. The despicable actions of Goldstein are documented beyond all doubt on screen. This documentary amounts to a transparently damning indictment of Sathya Sai Baba as a fraud, a suspected murder accomplice and a homosexual abuser. Their experiences and findings were fully in accord with those of the Danish documentary of 2002.

This footage shows the deceitful and conceited totalitarian and fanatical nature of Dr. Michael Goldstein, which is shared by many leaders in the Sai Organisation. The following is an excerpt from the Danish documentary:

In 1989 when I was 15 years old I went to India for three weeks. And on that trip I had four interviews. And in the third interview he actually asked me to untie my pants. And he forcibly pulled my pants down and with his bare hand grabbed my groin and rubbed some oil on the side of my scrotum. And I went again on the following year, and on that trip when I was 16 years old, SB called me again for a private interview. At that point I was even actually more uncomfortable because it seemed like this had already taken place, there is no reason why it needed to take place again.
...he waved his hand and turned it over and showed me some oil. And he started to rub it on my testicles and started kissing me. And as he was kissing me, he started kissing me deeply, you know. And I started tensing up and, you know, not understanding what was happening. But it seemed to me as if SB was trying to make my penis erect.
"One time he had his robe almost completely off and he tried to have anal sex with me, because he came from behind me and started climbing up on top of me, you know, and being that I'm so much taller than him, in order to keep prevent it from happening, I just stood straight up and didn't allow him to do anything, you know, and I kind of kept pushing him away and keep him there until ??... I know, I want to talk to you, I want to be with you and I love you. He said, "You don't love me? You don't love me?" And I would say, "No, I love you, but I just don't want to have sexual relations with you."
... But every time we would go back into the personal room, his wants got to be very intimate. And he was constantly having me take out my penis and he would hold it, sometimes put it in his mouth and look at me, and then ask me to do the same thing or push my head down and lift his robe up. And I was gagging and almost about to vomit. And, you know, that was probably the most mentally break down type of thing I've ever done in my life, because if I didn't feel like at that time, like my life or my family's happiness or … was depending on it, I wouldn't have done it. But my mentality at that time … I felt like it was a life or almost death situation. You know, this was God in human form, but that was my mental program - this is God in human form. How could I deny him what he was trying to make me do? There must be some deeper reason or deeper meaning that what I see."
What really helped me was when I had some conversations with some other people who had had similar experiences. Because I felt, that if they had had experiences as intense, or close to as intense as mine, I could talk to them about it more openly than I could talk to my dad. So we had talked about it, and all the people that I had talked about it were equally confused about it as I was. However, also equally brainwashed and allowing it to continue to take place. So I would say that finally I decided that I was not going to put myself into that position again, because life without SB was going to be a better life." See full transcript of the whole interview.
Timothy Conway Ph.D. - Follower for 22 years, President of the Sathya Sai Baba Center of San Francisco from 1982-4 wrote and posted the following:
Many very serious allegations of sexual misconduct - including extreme sorts - have been made openly and in public by a number of named persons. There are over score of detailed accounts of molestations to be found on the web which are credible and have mostly been checked by those ex-devotees who, like myself, have investigated this issue as fully as we could for years. In the following one reads short excerpts of key statements from web postings on several sites.
Several more accounts from around the world alleging sexual molestations by Sai Baba have - in addition to some of those detailed here - been formally signed as depositions or affidavits and are securely in the keeping of a professional person who is willing to be contacted ( such as via this website) for further validation by formal authorities and international bodies, lawyers and serious media persons.