Resumé of 'INDIAN WITCH HUNT'
(National Geographic documentary)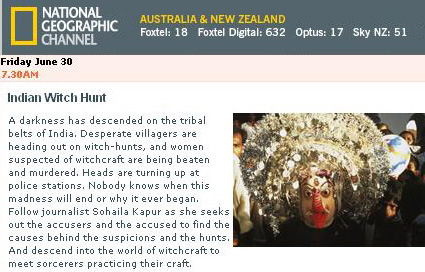 Witchcraft is still widely believed in and 'practiced' in many backward parts of India. Jharkand in Ranchi has been dubbed 'the witch-killing hub of India' by journalists where women suspected of witchcraft are attacked and not seldom killed. Historians have estimated that, in Europe until the 17th to 18th century, ca. 40,000 women were killed as witches, often by burning at the stake. (The latest well-known witch trials in an industrialised or developed Western country were those at Salem, Massachusetts in 1692.)
In Jharkand, five hundred cases of witch hunts were reported in the 1990s, and they continueto occur. The State ratified an Anti Witch-hunting Law, resulting in 400 arrests since 2000. The journalist Sohaila Kapur - author of "Witchcraft in Western India" followed one headline-grabbing witchcraft killing for National Geographic TV Channel. A teenager, Gurudas Mardi took the severed head of his aunt Maina Mardi to the police station, having cut off her head while she was grazing cattle in her field. The reason he gave was that his eldest brother had contracted a fever and died within one day, his father had died within three years and his elder brother was currently ill in hospital with the same symptoms. Gurudas believed his brother would be cured due to his having killed his aunt as a witch. However, all agreed that Maina had long been as a mother to him. Gurudas was condemned for murder and is currently serving in Ghatasila prison in Jharkand.

There were 7 such cases in Jharkand in as many years. Most accused 'witches' are widows. Mostly, others benefit from their deaths or banishment from their home and property. Part of the witchcraft rationale is that, if prayers can healat a distance, so can they also harm from afar. The belief in black magic is backed up by practitioners of it, such as - in this case - the Tantric 'guru' Baba Ramashankar of the popular Kali temple at Kamakilija. National Geographic filmed the 'guru' and three female disciples carrying our sacrifice rituals so as to obtain magical powers, including biting the head off a live chicken. The death spells they cast involved use of snakes and scorpions too. The 'guru' stated that the spells can cause love, hate and confusion.

Sohaila Kapur did a follow-up investigation on the deaths in the familywhich Gurudas Mardi believed due to his aunt's witchcraft. His remaining brother survived due to hospital treatment for TB. The doctor testified that both the father had died from tuberculosis and had infected Gurudas' two brothers.
Further, Sohaila Kapur filmed the local female witch doctor who Gurudas' family had approached and who had pointed the finger at Maina for witchcraft holding a trial in the village temple. While so doing Kapur was approached by a distraught man whose mother was about to be pointed out condemned as a witch by a same witch doctor in the village temple. A big local landowner's daughter was ill and many medicines had failed, so witchcraft was suspected. Because of the TV cameras, the priest dared not to make the announcement that the person was a witch and the villagers backed her up. Instead the witch doctor directed for a tree to be blighted and predicted it would die within two weeks. Of course, no effects on the tree were visible weeks later.

The female victims of witch hunts invariably have to seek police protection and mostly are ostracised and so driven by the villagers to leave their homes and even give up their properties, their houses etc. often being burned to the ground. The harrowing lives they then live is seen clearly in the interviews in the documentary. Inspector Mishra of Jharkand police, who had arrested Gurudas, blamed the widespread ignorance and lack of medical information and care in the area for the locals reliance on witch-hunting. See also here.
Police authorities do not automatically take action to protect persons wrongly persecuted for witchcraft. This is shown by the petition (by a person wrongly accused of witchcraft) in the High Court at Mumbai.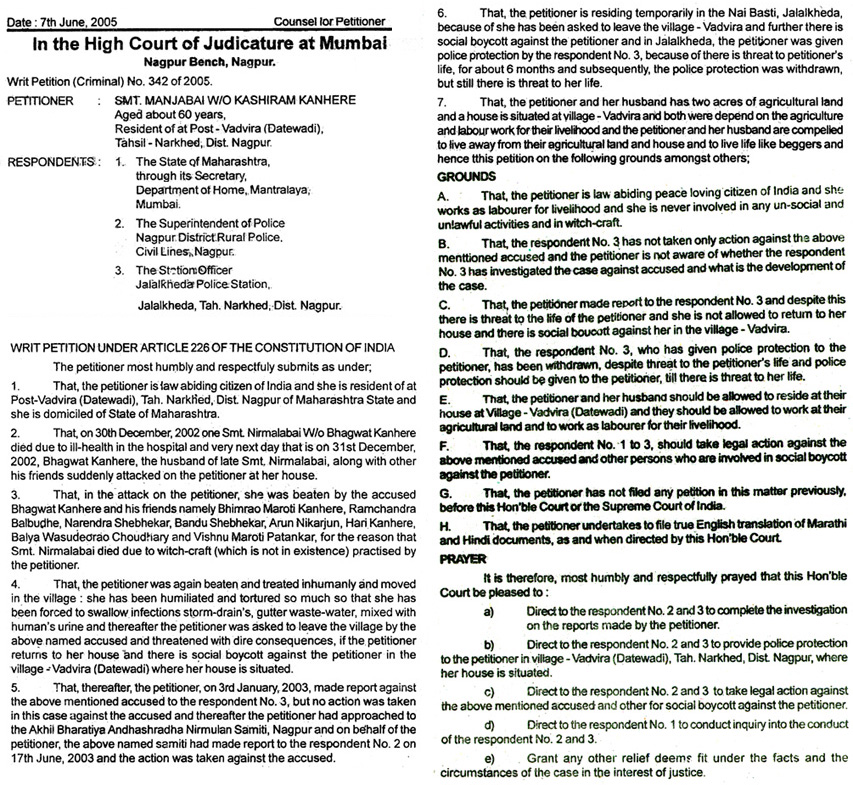 That the above petition was undertaken (a costly, lengthy and uncertain procedure in India) and its subsequent dismissal in favour of account by the police authorities' clearly shows the most parlous state of affairs in much of the Indian police system and judiciary! This same judicial system judged that Sathya Sai Baba had not contravened the Gold Control Act on the grounds that he actually materialises gold out of thin air! Further, the petition by Hari Sampath - forwarded by two of India's most foremost lawyers - against Sathya Sai Baba was refused a hearing on a legal technicality by his devotee judges in the Supreme Court (Click here and here)!