So what is the origin of the most inflated numbers? [other than the well-known game "Think of two numbers, multiply the one by the other, add some zeroes... etc."]
One part of the answer is also that the Sathya Sai Organisation has for decades already reported in many of its pamphlets, films, books and articles that the number of devotees worldwide is 60 million. This figured remained unchanged by most Sai Organisation sources for close on 15/20 years, even despite the evident increase in numbers of visitors to his ashrams over that period!


One Wikipedia page on Sathya Sai Baba states: "According to the Sathya Sai Organization, there are an estimated 1,200 Sathya Sai Baba Centers in 130 countries world-wide. The number of Sathya Sai Baba adherents is estimated sometimes as around 6 million, and followers cite "50 to 100 million". The Sai Paradox contradictions of and surrounding Sathya Sai Baba" from the magazine "Religieuze Bewegingen in Nederland, 'Sekten' "/"Religious movements in the Netherlands, 'Cults/Sects' ", 1994, nr. 29. published by the Free University Amsterdam press, (1994) reports the following estimates: Beyerstein (1992:3) [skeptic]: 6 million; Riti & Theodore (1993:31): 30 million; Sluizer (1993:19): 70 million; Van Dijk (1993:30) [follower] "between 50 and 100 million" ; Adherents cites Chryssides, George. Exploring New Religions. London, U.K.: Cassells (1999) with 10 million "

How did the Sai officials dream up their estimated number of 60 million (and somtimes much more)? In this Sai officials imitate Sai Baba's constant exaggeration of numbers of followers and of visitors to his birthday celebrations, as if this increased his self-declared Divine status.

Though claims as to how many followers Sathya Sai Baba has vary from only a million or so (and even through to a billion!) There is no known basis of measurement for either of these figures - not can one identify who is a follower or not. A majority are still Indian villagers, of whom very many have probably no strong attachment to him but have visited out of curiosity (to see the luxury and showpieces, including light shows, free meals or for a jaunt on a festival day. Total membership of the Sathya Sai Organization is a tiny fraction of the number of followers claimed, but due to the criticism of the inflated estimates usually published, the organization no longer published any data on this for public consumption. It is apparently now a 'trade secret'. Part of the reason would be the very considerable fall-off in non-Indian devotees since the exposure of Sai Baba through many sex abuse allegations from 1999 and a range of damaging facts about him, his impossible claims and failed predictions etc. Sathya Sai Baba exaggerates figures wildly (see here) and his minions take after him. They have been successful through constant repetition in getting much of the media to reproduce some of these fantastic numbers.

Presumably on this kind of basis (along with other inflated numbers given by Sai Baba in private interviews and reported by his former close servitor and editor - V.K. Narasimhan), devotees - believing every word as the literal truth as usual - began to speculate over how many followers one may claim worldwide. The jump from 60 to 100 million increase the original number due to the passage of years and doubling or more of visitors to Sai Baba since those days. But therefore very cautious, isn't it? Well, notwithstanding all that, some devotees have (incautiously) posted the claim that Sai Baba has six hundred million devotees! However, no one can explain who would qualify to be a follower, a devotee or an adherent of Sai Baba. Extraordinarily, he has often said he can see not one single devotee among the crowds, telling everone off for not being genuine!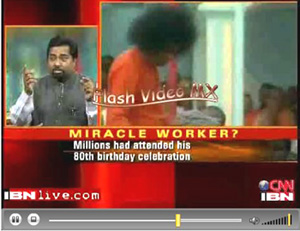 The CNN-IBN network reproduced the statement of a Sai devotee (i.e. NOT a neutral witness) on the number of visitors to the "80th" birthday Whether this means last year's or this year's is unclear, he is now 80 years old but is in his 81st year. In either case it's all a matter of wishful thinking anyhow. The capacity of the stadium where it takes place is not even half a million. One can see how this question has been handled by Sai and his officials in the past click (link below)!
See also some of the many office-bearers and prominent devotees who have declared they have left Sathya Sai Baba and/or his Organization.
Disclaimer: This page may contain material the use of which is - or has not always been - specifically authorized by the copyright owner. Material used in quotation is for the sake of critical scholarly debate and education. 'Fair use' is observed in this page which, under UK law, is one of the most important limits to copyright. It permits some use of others' works even without approval, favouring public interests such as criticism, education or scholarship are favored -- particularly if little of another's work is copied and it is attributed correctly. Such use also constitutes a 'fair use' of copyrighted material as provided for in section 107 of the US Copyright Law, also for the protection of those who may otherwise be deceived into joining a deceptive and sometimes dangerous cult. The owner of this web site will be pleased to rectify any errors or oversight regarding copyright.
Return to menu index