Was Sai Baba's caregiver Satyajit giving sleeping pills forcefully to Baba ?

http://www.newscommando.com/R-satyajit-sleeping-pills.html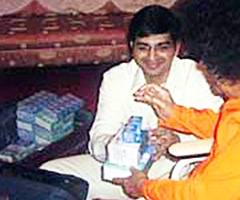 The demise of Sathya Sai Baba has left a question mark on the future of his massive spiritual empire, estimated to be worth several thousand crores.
Within hours of his death, speculation arose that Baba had left a will, handing over the responsibility of managing the Sri Sathya Sai Central Trust to his personal assistant and caregiver Satyajit - a claim that was hotly contested by the godman's nephew.
Insiders said the way Satyajit has been dominating the funeral proceedings in the past 24 hours has given rise to speculations that he is going to be a "key player" in the Puttaparthi ashram after Baba.
Sources said during the internal power struggle in the past few weeks when the godman's health started worsening, Satyajit had claimed that Baba had, indeed, left a will, handing over all the responsibilities of the trust to him.
Satyajit is said to have told the trust members and state government representatives - industries minister J. Geetha Reddy and senior IAS officer L. V. Subrahmanyam - that he would disclose the will in the presence of legal advisers after Baba's last rites are completed.
The trust will meet on Wednesday, after Sai Baba's last rites are completed. Sources close to Sai Baba's family said Satyajit is demanding that he should get his due share in the trust.
Satyajit is a 33-year-old MBA graduate from the Sri Sathya Sai Institute of Higher Learning.
But apart from this, nobody in Puttaparthi knows about his background, except that he belongs to Mangalore in Karnataka and had joined the ashram when he was five.
He was specifically chosen by Baba to be his personal assistant.
Over the years, Satyajit has come to be regarded as one of the most powerful men in Baba's inner circle.
However, Satyajit comes with his fair share of controversies dogging his footsteps. A recent letter released by Prof. Shyam Sunder, who had been associated with Prashanthi Nilayam since 1968 and was appointed as manager of the stores in 2005, has made several startling allegations against Satyajit.
According to the letter, many servants were "exploited" by Satyajit. "I know a kitchen worker named Kushal. In the morning, he used to go upstairs and used to come back crying. It was continuing for months. His parents complained to the ashram authorities, but nothing happened," Sunder said.
Sunder also alleged that Satyajit and his associates had been administering sleeping pills to Sai Baba for the past six years. "Though Baba resisted the pills after his return from Brindavan at Whitefield, Bangalore, in 2006, he was forced to take them as a result of which he got addicted to them. Since then, he started coming to prayers late and sleeping even in the afternoon. In a few months, Baba became sluggish and weak," he said.
Even Dr A. N. Safaya, director of the super- speciality hospital in Puttaparthi, had indirectly admitted to the media that Baba was indeed being given sleeping pills regularly.
"I am not aware how many sleeping pills he used to take every day," he said.
Satyajit's claims of a will have been strongly resisted by Baba's nephew, R. J. Ratnakar - the sole representative of Baba's family in the trust.
The succession battle is said to be revolving around these two persons. As of now, the government has brokered a compromise formula under which Ratnakar and Satyajit would together manage the ashram's affairs.Caregiver Satyajit claims Sai Baba handed all Trust responsibilities to him. Baba's nephew contests this claim