The St. Johns family are successful Hollywood people. Christopher St. John is a black film director, producer, writer and actor; Maria St. John, a British actress and housewife; and their son Kristoff St. John, a two-time Emmy-Award and eight-time NAACP-Image-award-winning actor, writer, director and producer. The subject of the documentary "AVATARMANIA" is an American family and their journey to the south of India to live with and study under Sathya Sai Baba, the controversial, and ultrafamous gurus who claimed to be the Creator of the Universe and much else besides!! Sai Baba called himself an avatar (god in a human form) and proclaimed he was the Father who sent Jesus Christ! Like thousands of his devotees, St. John also believed that Sai Baba had the supernatural power of materializing small solid objects like ring, amulets, statuettes, as well as 'holy ash' (vibuthi) and 'holy nectar' (amrit) among other substances out of thin air! The apparent evidence of this is captured in the film! The St. John family, caught in the iron jaws of Sai Baba's Hindu "cult," are the key characters in this mysterious but harrowing story of their spiritual search.

St. John is portrayed as filming a documentary about Sai Baba and his countless disciples, while his own family tried to adjust to life within this cult. As part of his spiritual search, he tried to involve himself constructively in the daily duties and routine prescribed by this 'Divine Being'. The massive and pompous birthday celebrations were attended by over 250,000 Sai Baba disciples at Sai Baba's remote village ashram (called Prashanthi Nilayam or 'The Abode of Peace'). The security there included high walls and constant surveillance to keep unacceptable perons away. The poverty, hunge, disease and village filth and streets outside is in starkest contrast to ashram itself where Sai Baba celebrates himself with opulent pomp and circumstance! St. John's faith begins to disintegrate - not least when he is sexually molested by the guru - while his wife and daughter Christopher were getting close to the guru Sai Baba. The change in their livesas seekers of peace and wisdom was drawing them into occult Hindu beliefs and practices... an evil game. The St. Johns had to choose between giving themselves completely to Sai Baba and his cult followers or run for their lives. As St. John put it: "If the documentary "Koyaanisqatsi" (life out of balance) were to collide with the tragedy of Jim Jones, David Koresh and "Heaven's Gate," you might have "AVATARMANIA"!

Watch a trailer of the film here http://www.mancalledgodmovie.com/videos/ and also see various clips etc. It is advertised by:- An American family trapped in a horrifying cult led b y a man that 50 million people call God. What they uncovered was anything but godly... A Man Called God is the award-winning documentary, from the visionary mind of Emmy Award winning Actor, Producer, Writer, Kristoff St. John and directed by Blaxpoitation Icon, Christopher St John, takes you on a journey over thirty years ago when the St John family embarked on a spiritual excursion from Los Angeles, California to Southern India to search for God.
Read a long review of the movie by-M.G. Conlan here

While he was still a devotee of Sathya Sai Baba, Christopher St. John wrote the following in one of the 'official' Sai Baba publications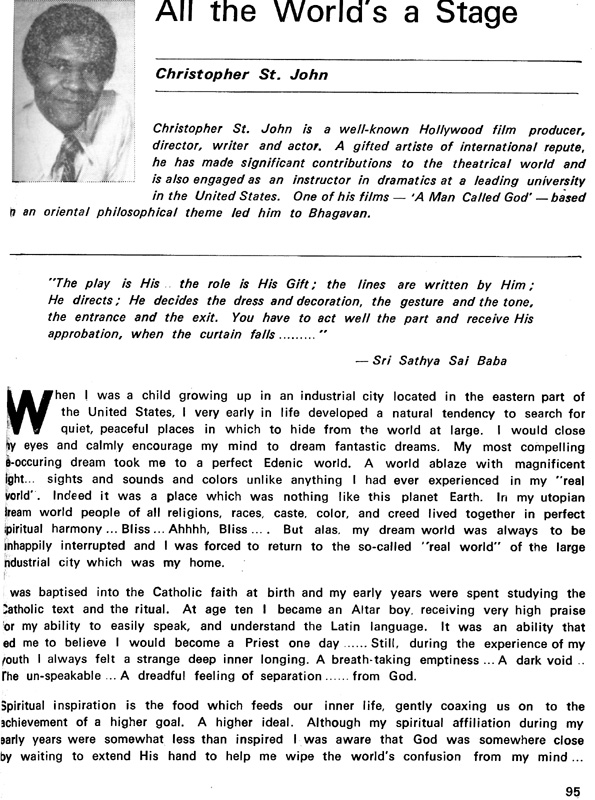 1) Print this Page 2) Use right click here - then 'Open page in new window' to translate

Return to index menu